I know it's sappy, but I just love baby showers. Love em love em love em. Love to go to them, love to look at pictures of them, and especially love to throw them.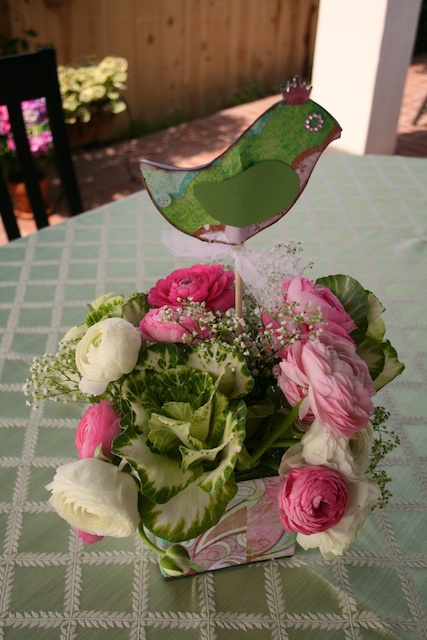 This weekend I was in San Diego county throwing a spring-themed shower for one of my longtime girlfriends, Courtney. This will be her second baby, a little girl due in April. Personally, I am a fan of second-baby showers—I think every baby deserves to be celebrated, whether you have an intimate 'sprinkle' event, or a full-blown shower, or a co-ed cocktail party. I say getting together with friends & family to celebrate a new life is a much more noble cause than worrying about old-fashioned etiquette!So, without further ado, onto the details…
We really tried to play up a handmade, vintage quality for this shower. For the floral arrangements, I chose tightly bunched pink carnations, bright pink and pure white ranunculus, baby's breath (always lends an old-fashioned touch), and green & white cabbages to keep it fresh and modern. I wrapped the vases in the paisley paper we also used for the handmade invitations. My friend Amberli handmade all the birds as part of the centerpieces. Scrapbooking paper, tulle, and buttons were the materials of choice—I absolutely love how they turned out! We loved the look of the buttons, so my friend Megan decided to incorporate them into notecards showing the ladies what they would be enjoying at the luncheon.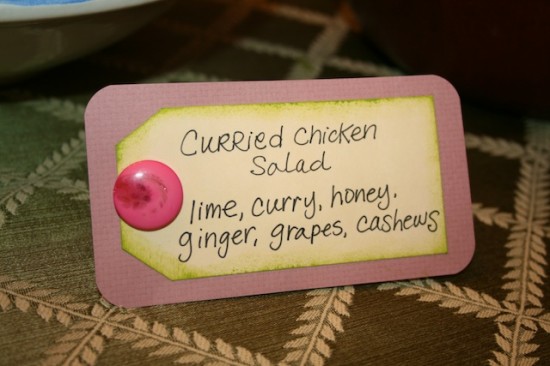 The curry chicken salad mentioned above is a dish that always goes over as a big hit at showers! It's familiar, but unique, and I highly recommend it—it's weirdly addictive. The 'Stella' sign was another handmade touch that made the shower feel so personal—a name banner is a great thing to do if the mama has already chosen the baby's name and is willing to share it—and if you tie in the shower theme with the colors of the baby's nursery, a lot of your decor can also be used in the baby's room!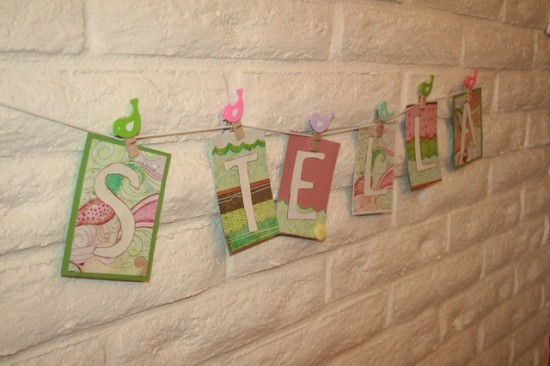 For favors, we found the most adorable pink egg nest soaps, and displayed them in an antiqued birdcage. Actually, there were a lot of birdcages used around the shower to play up the spring theme, though I apparently have no pictures of them—just take my word for it.
The hit of the dessert table was a plate of these gorgeous macarons from Paulette in Beverly Hills. I picked them up the day before in LA—they perfectly matched the shower colors and were almost gone in a matter of minutes. At upscale gatherings, the ladies always seem to leave just ONE cookie remaining, has anyone noticed that? Well, no matter, I ate it myself. It looked lonely. It tasted like salted caramel. Mmmm…And here's the glowing mama-to-be with some of her lovely loot, and a shot of my girlfriends & I toasting the happy day.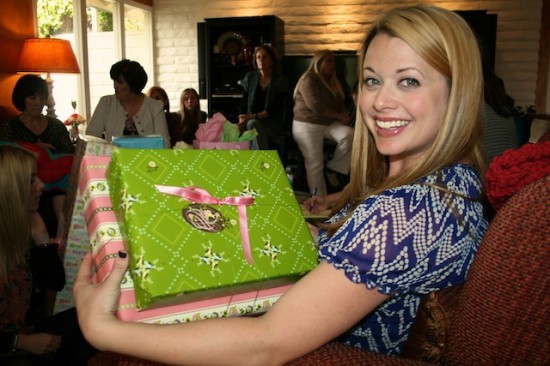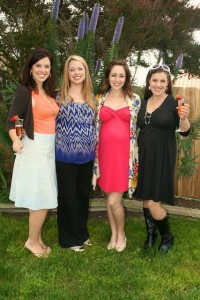 I've been friends with the ladies since we were 12! We've been through a lot together & I'm so grateful for them—and I loved helping Courtney celebrate her new arrival. We can't wait to meet you soon, Stella! xoxo