My friend Leslie made this delicious pasta recipe for a group of us and it was simple & delicious! Try it out this week: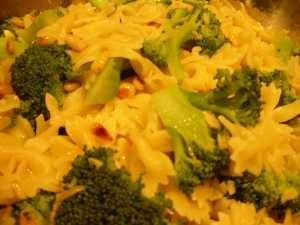 Farfalle with Lemony Broccoli
What you'll need:
8 cups broccoli florets (about 4 heads)
1 pound farfalle (bow tie) pasta
3-4 tablespoons unsalted butter
2 tablespoons good olive oil (plus some for tossing)
5 garlic cloves, chopped
1 lemon, zested
Salt and Pepper
1 tablespoon freshly squeezed lemon juice (about half the lemon)
1/4 cup pignoli nuts (pine nuts), toasted
Freshly grated Parmesan
What you'll do:
1) Cook the broccoli for 3 minutes in a large pot of boiling salted water. Remove the broccoli from the water with a slotted spoon. Place in a large bowl and set aside.
2) In the same water, cook the pasta. Drain and add to the broccoli. By using the same water, the pasta will soak up some of that Broccoli flavor.
3) In a small saute pan, heat the butter and oil and cook the garlic and lemon zest over medium-low heat for about a minute. Add a pinch of salt and pepper, lemon juice and pour over the broccoli and pasta. Toss well. Sprinkle with the pignolis and cheese. Add a little more olive oil if needed.
4) Enjoy this yummy dish!